Tribute Customer Spotlight: Cline Hose & Hydraulics
For over 70 years, Cline Hose and Hydraulics, LLC in Greenville, SC has provided quality hydraulic and industrial hose and equipment for the industrial and automotive industry.
Specialists in the hydraulic hose and fittings field, they have a reputation for speedy service, and quality products that are always in stock. Today, Cline has expanded, adding power drive services, cylinder repair, pump repair and cooling systems to its hydraulics portfolio.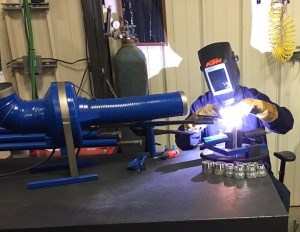 Cline Hose Adheres to NAHAD Hose Assembly Standards
All of their hose assemblies conform to industry standards as well as the NAHAD (The Association for Hose and Accessories Distribution) hose assembly guidelines.
Founded in 1948 by N. Q. Cline, Sr., the Cline Company initially operated out of a small house in downtown Greenville. The front porch was used as a loading dock and the family worked feverishly inside, making hose assemblies with a hand hacksaw, a pair of pliers, and a knife to cut and peel off rubber covers (skiving a rubber hose).
In 1950, when hydraulic hose and fittings were becoming increasingly popular for replacing wire cables and winches on bulldozers and front-end loaders, Cline Hose & Hydraulics began distributing for the leading manufactures of hose, fittings, adapters, and couplings.
As the nation went metric, so did Cline Hose. They later added the flexible metal hose assembly facility with state of the art welding and fabricating process.
Growth Necessitates Move to Larger Headquarters
The company moved from their facility in downtown Greenville to their location on Verdin Road in 2015, which offers easy access for customers and deliveries, and everything is now under one roof. Their corporate motto and e-commerce site, "Need a hose in a Hurry? We're ready to serve you!" has been complemented with The Cline Performance Guarantee, as services and additional products have been added.
Cline Hose & Hydraulics offers training programs and technical support to assure proper installation and maintenance on all of their products. The firm, through the leadership of its founder, has continued to invest heavily in its "service first" philosophy throughout the years with staff members trained to rigorous industry standards and experienced in each aspect of the business. Many employees have been with the company for over 25 years.
They've expanded their services by including engineering and manufacturing, with state of the art equipment to tear down, re-manufacture and test all types of hydraulic equipment including pumps, cylinders, gearboxes, electric motors, and power drive components.
Cline Family's "Service First" Philosophy Drives Expansion 
After the passing of its founder, N. Q. Cline, Sr. in 2002, the company is now owned and operated by his grandsons, Glenn and Scott Cline.  N.Q. Cline, Jr., their father, remains actively involved as a consultant. In 2011, they acquired Carolina Power Drives to integrate their power drive services into their business.
Glenn and Scott have been involved in the family business for over 30 years and have the experience and knowledge to carry the business into the future. Together with their loyal employees, Glenn and Scott maintain that service is 90% of their strength. At any time, Cline's busy counter sales force is actively supplying technical knowledge and services to solve here-and-now hydraulic problems in the field.
As the Cline brothers state, "A distributor without sufficient hose and fitting supplies and supportive services is about as useful as a gas station without gas." They consider their employees their greatest asset and cite their dedication and credibility as the reason for Cline Hose & Hydraulics' exceptional reputation in the industry.
Cline Joins Forces with ContiTech and Adds Gates Product Line
The company has joined forces with ContiTech, a world leader in industrial and rubber hose and fittings, to carry the full ContiTech product line and feature braided steel hose, industrial hose, chemical hose, hydraulic hose, sanitary and fire products as well as several lines of pumps.
Cline opened their second service center in North Charleston, South Carolina, in August 2016. They acquired their third location, B&B Industrial Sales, in in Augusta Georgia in 2018, which added the Gates line of fluid power components to their line card.
A Tribute customer since 2004, Cline utilizes TrulinX software by Tribute, Inc. to help run their business efficiently and maintaining the Cline family's "service first" philosophy while growing their company and expanding their offerings.
Cline Hose & Hydraulics
155 Verdin Rd.
Greenville, SC 29607
877.233.7104 toll-free
Additional locations in Charleston, SC & Augusta, GA