Tribute Customer Spotlight: Mid-State Aerospace, Inc.
In the world of industrial distribution, it isn't common to see a company owned, much less founded, by a woman.
That mold was broken in 1983 when two good friends, Cleo Brager and Sherry Audley of Kansas City, founded Mid-State Aerospace, a company focused on supplying the aerospace industry.
Utilizing their backgrounds in the aviation industry, Cleo and Sherry gained contracts with major aviation manufacturers including Boeing, Beechcraft, Lockheed-Martin, Bell Helicopters, Sikorsky, Northrop Grumman and General Dynamics.
Their business grew and in 1997, Mid-State Aerospace was honored by the U.S. Small Business Administration as one of the top ten small businesses in America.
In 2005, Cleo became the CEO when Sherry passed away. As in most family-owned businesses, Cleo relied on family for support in moving the company along. Her daughter Micole (Mickey) Franklin serves as Vice President of Operations and her son-in-law Rob Rogers serves as president.
FAA Approved Hose Assembly Fabricator of Parker Stratoflex Products
A full line distributor and fabricator of hose, field-attachable and crimp fittings and hose assemblies, Mid-State Aerospace has a strong reputation for providing exceptional service to original equipment manufacturers, government agencies, and maintenance repair providers.
Supplying products from the Stratoflex Division of Parker Hannifin and FAA Approved quick-disconnect couplings, valves, and swivel joints from the Symetrics Division of Parker Aerospace, Mid-State Aerospace is one of only a handful of Parker distributors with a certified on-site hose shop that fabricates hose assemblies to fit the exact specifications required by the aerospace industry.
Leading Supplier of Hoses to the Aviation Industry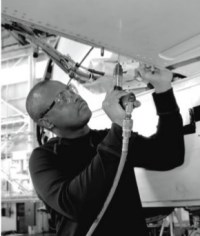 MSA has assembled a team of key personnel with over 100 years of experience in providing high quality products, unrivaled customer support and a thorough understanding of their customer's needs.
Active in AIA, the Aerospace Industries Association, Cleo promotes the aviation supply industry and has mentored other women, discussing the challenges, sacrifices and benefits of being a woman owner of a small business.
A Tribute customer since 2006, MSA utilizes TrulinX software to run their business efficiently, reliably and accurately.
MSA is DOD-approved and listed on the applicable Government QPL's as a source for hose fittings for  aerospace, industrial and military applications. You can find Mid-State Aerospace on Facebook, LinkedIn, and Twitter.
Mid-State Aerospace, Inc.
710 N. Lindenwood Drive
Olathe, KS 66062
www.midstateaero.com