Rubber Tree Systems Acquires Informediate Business Intelligence Division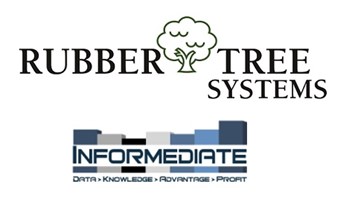 Tribute, Inc. strategic partner, Rubber Tree Systems, is pleased to announce the acquisition of Informediate Business Intelligence (BI) Division, effective 1/21/2020.
Known for its renowned salesforce mobilization, customer relationship management (CRM) and analytics software that integrates with customers' Enterprise Resource Planning (ERP) systems including TrulinX and Tribute Software systems, Rubber Tree is an Ohio based Software as a Service (SaaS) company for over 270 distributors across the U.S. and Canada.
Informediate BI is an Ohio based software company providing ERP integrated BI and reporting services to over 200 distributors in the industrial distribution space.
Brian Kazmierczak, President and Owner of Rubber Tree Systems, states, "We are very excited to bring the Informediate BI customers, employees and products onboard at Rubber Tree. With this acquisition, we are bringing together two strong and well-respected companies. We will continue to grow our software solutions, customer base and talented team of employees to serve our over 450 combined customers in the industrial distribution and manufacturing markets.
"Both Rubber Tree and Informediate are widely known in the industry for their outstanding customer service and easy to use products. We plan on continuing to invest in both the software and the people that have made both companies successful over the last 10+ years."
For more information on Rubber Tree Systems and its integrated solutions for TrulinX and Tribute software for industrial distributors, visit www.rubbertreesystems.net. You can also stop by their booth  (and Tribute's) at the upcoming IDCO Expo and NAHAD Annual Convention.