It's Our Business to Help Distributors Achieve More Profit in Their Business
We know your needs are unique and not just any software can help you streamline processes, cut costs, save time, improve margins, stay competitive and most importantly, improve the ability to serve your customers. That is where Tribute's industry-specific software, TrulinX, shows its real value. Backed by 35+ years in your industry, coupled with a team with cumulative industrial distribution experience of more than 500 years, TrulinX was developed with your business in mind.
We've identified the specific tools a successful distributor needs to effectively run their business. Our customers drive our development process and we evolve our product with features aligned with their wants and needs. We know your business better than anyone else. We speak your language, and we are positioned to help your business increase profit and gain an edge on the competition.
Quoting and Order Entry Processing
Counter Sales Module
Sales Analysis
Inventory Management
Wireless Warehouse (Bin Moves & Cycle Counting)
Barcoding (Forms, Labels, etc.)
Comprehensive Accounting (AR, AP and GL)
Purchase Order Processing
Warehousing / Shipping & Receiving / Put-Away Process
Faxing and E-mailing of All Forms with Scheduling Feature
Flexible & Varied Reporting
MS Queries and SQL Reporting
Real Time Business Activity Screen
PCI Compliant Credit Card Integration
Full Integration with UPS WorldShip/FedEx
Need a quick status on a customer shipment? 5-10 seconds is all it takes to get into the UPS/FedEx system for tracking info and to secure a POD.  This feature also enables you to look up orders in many different ways, such as Customer Name or Number, Purchase Order, Invoice Number, Ship-to Location, etc.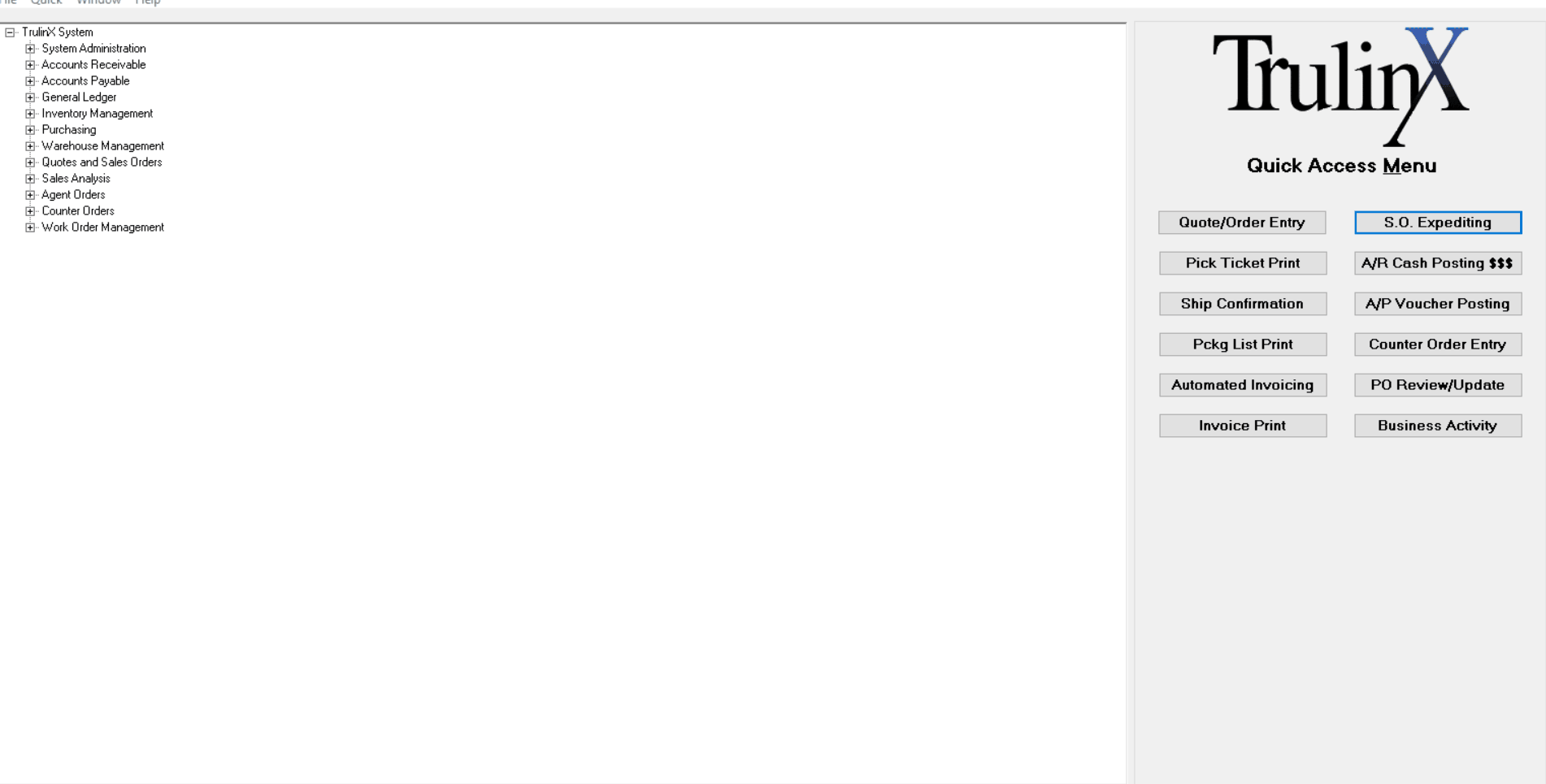 Features Specific to the Distribution Industry
Vendor Rebates/ Reporting
Easy to Perform Vendor Price Updating
Agency / Manufacturer Representative Orders & Reporting
Automatic BOM Assembly Generator (Hose Assemblies, Pumps, Motors, Valves, etc.)
Templates & Schematics attached to each part, assembly or sub-assembly
Sophisticated BOM Capabilities with Build Versions / Options
Lot, Heat & Serial Number Tracking
External Fabrication / Outsourcing
Manage & Track Service & Repair
Work Order Management - Application of Labor & Burden
Customer and Vendor RMA Process
ProForma Invoices for International Shipments
Inventory Sharing Integration (Excess and Dead Stock)
Special Price Agreements (SPA)
Mobile Technology (Phones and iPads)
Document Imaging
Import New Price Lists/Vendor Catalogs
All our dynamic & sophisticated inquiry screens allow you to drill down to every aspect of a customer's order history.  You can move the columns to sort and filter in variety of ways so you can find the information you need easily and quickly.  A simple click of the reset button returns the query to its original format.
How Profitable Would Your Business Be Using TrulinX?
Our proprietary ROI calculator, which incorporates data gathered from industry trade associations (NAHAD, AHTD, FPDA, NFPA, NIBA, and PTDA), is the first step in building a quantifiable business case and determining where you can drive business benefits.
Using your company's own data, you can calculate how much you can save over a five year time period in different areas such as order entry, warehouse and assembly labor, scrap material costs, inventory management, manufacturer rebates, and more.