Cyberattacks Reach All-time High: What To Do About It
This guest post is brought to you by Scantron Technology Solutions, Tribute's Best in Practice solution partner for hardware, installation, monitoring, and on-site service.  Scantron has the expertise necessary to keep your organization running smoothly.
---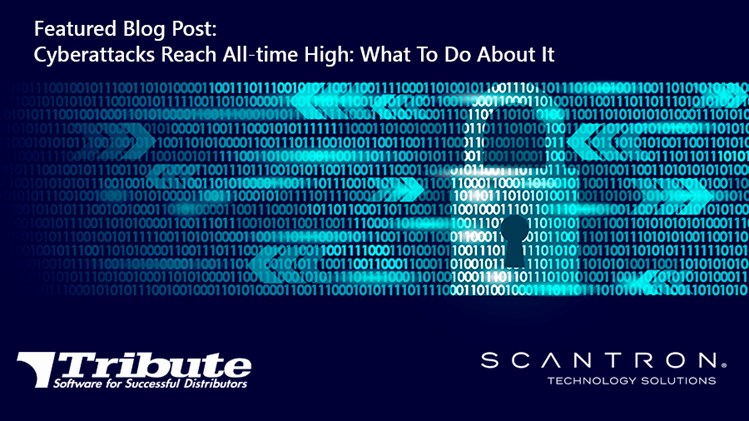 Cybercriminals showed no intent to slow down as businesses suffered 50% more cyberattack attempts per week in 2021, according to DARKReading. Those numbers grew 4th quarter 2021, reaching an all-time high of 925 a week per organization thanks to the latest exploit, Log4Shell. This newest exploit was just one of many reminding businesses everywhere they must have measures and resources in place to ward off cyberthreats. 
What is Log4Shell, and is My Business at Risk?
Log4Shell is an internet vulnerability affecting applications involving a piece of software called Log4j. Log4Shell works by exploiting a feature within Log4j. For example, the software code can be submitted via third-party servers to targeted computers with commands to perform various actions like collecting private personnel information or overtaking devices for ransom. 
To know if your company has been impacted, you will need to assess any vulnerabilities in your environment or workloads through managed detection and response security services or vulnerability scanning. By identifying vulnerabilities in your system, you can mitigate the vulnerability and respond accordingly to avoid any security concerns. If you haven't already checked to see if your systems are vulnerable, the Federal Trade Commission (FTC) advises companies to remediate security vulnerabilities as soon as possible.
What Tools are Available to Safeguard My Company?
Safeguarding your critical assets should involve a multi-level security approach using various tools and tactics. To help protect against vulnerabilities like Log4j, implanting security services that identify threats as they happen is a significant first step. For example:
Managed Detection and Response: comprehensive event collation via a security platform to guard against undesired activity and stop the attacks on your systems
Vulnerability Assessment with Managed Risk: get near real-time alerts for critical vulnerabilities with a managed risk platform
Next-Generation Endpoint Security: security alerts based on suspicious behavior such as a bad actor attempting to leverage a vulnerability in your system and blocking the attacks
The goal is to stop attacks before they become threats and eliminate as many blind spots as possible. No single-point security solution will provide your business with enough data protection against cybercriminals. Take the first step by eliminating any known vulnerabilities in your systems. If you need help with scanning your business or building cybersecurity protocols, STS security experts can help.
Learn More About Secure Software Solutions with Tribute
Tribute Inc. is an industry-leading provider of integrated ERP software for industrial distributors, helping them to streamline their operations and better serve their customers. Whether it's our traditional on-premise software or our cloud-based ERP solution, Tribute and our partners are dedicated to keeping your system secure.
If you're interested in learning more about our industrial distribution software, please contact our team today. You can also request a demo of our TrulinX software to see first-hand how ERP software can help increase your overall efficiency, productivity, and profitability.