Celebrating 25 Years with Tribute's Training & Development Manager, Julie Irvin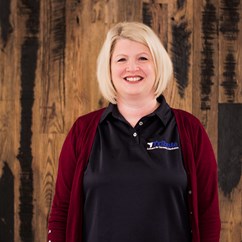 A lot has happened at Tribute in twenty-five years, but the one constant throughout has been Julie Irvin. We are proud to celebrate her 25 years of service with Tribute this month (officially September 9th). Julie began her career with Tribute as a receptionist and has served in customer support and support management roles.  With a love of learning, her astute knowledge and expertise of the Tribute and TrulinX Software Systems has played a large factor in attaining her current position as Training & Development Manager.  Julie develops and manages all of the training programs for TrulinX software users, TribNet Annual User's Group Conference, and onboarding and training new Tribute, Inc. team members.
Q&A with Julie:
1. You have been with Tribute for 25 years – what has kept you here?
The work challenges me and I'm always learning something new. I love the small, family atmosphere and the ability to have personal relationships with our customers. I have a voice here, and I have had the opportunity to contribute to what we do here, which has been very rewarding. 
2. Tell us about your role and what you like most.
I have had a lot of roles here as I've moved up the ranks and I've liked them all for different reasons, but my current role as Training and Development Manager is my favorite. Being able to use my own experience in learning this product, and utilize the years of knowledge and experience to help our employees and our customers is really fun for me. I know that sounds like a canned answer, but it's really true. I love to learn and I love to help others learn and see how the new tools and information can make their jobs easier and better.
3. What do you see as the biggest accomplishments since your start at Tribute?
 We have certainly made great progress in our product development over the years. But what I view as our biggest accomplishment is that we have made persistent efforts to retain our small, collaborative atmosphere and to retain our ability to partner closely with our customers. It would have been easy over the years to lose that, but we know it's at the core of our success. I really value that Tribute values personal relationships over profit.
4.  What significant industry changes have you seen over the last 25 years?
A lot of our customers are family-owned businesses, and it's been fun to see the adult children of the company founders take over and inject new ideas into their company.
5. What significant changes has Tribute made over the last 25 years?
Our ERP solutions (Tribute and TrulinX) have made huge strides every year, and we've done a great job of keeping our ear to the ground and responding to the industry needs. The result is a really full, robust ERP product. I guess our most recent "big change" is being acquired and changing to permanent work from home in 2020. Huge adjustments for sure, but it's all been a pretty positive experience. I credit our leadership for actually "leading" us through all of that really effectively. And I really appreciate that Tim Reynolds took the time to find a great, new home for us with Constellation Software, that would allow us to continue to focus on what we do best.
6. Tell us about your favorite features or game changers that have helped our customers streamline business processes.
 I'm particularly excited about our TrulinX Air product, and our Cloud version of TrulinX. TrulinX Air just continues to improve warehouse efficiency and expenses and we've been able to utilize the newest technology available and give that to our customers. We've assembled a pretty talented group of developers, so I'm excited to see what we do moving forward.
 7.  Is there any other information you would like to share about your tenure with Tribute?
It's just nice to truly respect the company you work for, and be able to truthfully love and believe in the product we sell. I'm blessed and proud to have worked here all of these years.
---
Check out a few of the articles Julie has written for our blog, DisTribute.