Building Customer Loyalty with Integrated E-Commerce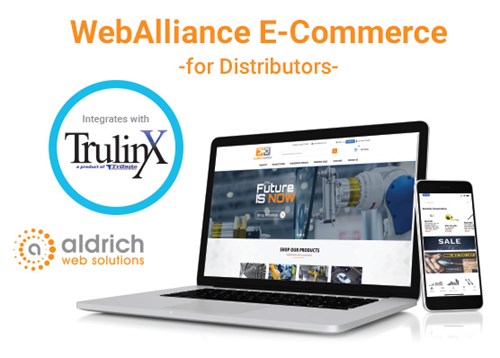 Today, buyers are bombarded with more providers to choose from than seemingly ever before, especially now that big names are jumping into the industrial distribution realm.
So how does an industrial distributor stay competitive and create customer loyalty when customers can switch to a number of competitors who offer a similar product or service?
It's by adding value to the relationship, and one of the ways companies can add value is to offer services that customers will find valuable and improves the customer experience.
Adding an e-commerce option to your business enhances the customer experience in a number of ways and allows you to have your products and services more visible on the web.
Tribute, Inc. partners with Aldrich Web Solutions to offer e-commerce tools integrated with TrulinX ERP software for industrial distributors who provide fabrication and system integration services. Their WebAlliance E-Commerce suite of products was built specifically for distributors and its integration with TrulinX offers distributors an edge on their competition.
Industrial Distributors Can Create Customer Loyalty with Integrated E-commerce
Listed are just some of the ways Aldrich Web Solutions integrated e-commerce website and TrulinX ERP software enhance the customer experience and create customer loyalty:
Easily and Quickly Search for the Correct Item
Customers can easily search for the correct items by utilizing filterable options, as well as utilizing order templates, a re-order option, and viewing frequently purchased items. Aldrich utilizes true search engine technology to allow customers to quickly find the products they are looking for. This includes best matching, customer purchase behavior influencers, search item filtering by product attributes, and more.
Customer Convenience
Increasingly, employees work off-site and non-standard hours. The ability to allow customers to place orders and access past invoices, previous orders, open backorders and more 24/7 puts you a step ahead of your competition. Aldrich's order templates, re-order forms, and favorites lists make purchasing easier for frequently purchased items. These capabilities free up your Customer Service Reps to do more selling and less trouble-shooting.
Customer Level Pricing
Since the e-commerce platform is integrated with TrulinX software, the pricing is customer specific. The customer can research the product, get customer-specific pricing, look up invoices, convert a quote, and place an order - all at their own convenience.
Tech Specs and Resources
Your buyers need quick access to spec sheets and technical product literature. Aldrich's integrated e-commerce platform allows you share the specification data in an easy way. Beyond specifications, the e-commerce platform can provide strategic online resources that explain how to evaluate your products (links to manufacturer's videos) and how to best use them after they buy. This content adds value and helps you stand out from your competition.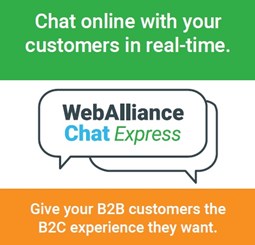 Personalized Product Recommendations
Aldrich's e-commerce platform allows the creation of Wish Lists, Favorites, and Order Templates to make the buying experience personalized and easy for your customers. A Live Chat service is included at no additional cost so you can chat with customers as they shop
Promotional Offers
Aldrich's e-commerce platform allows you to highlight promotional offers, allowing you to move seasonal or slower moving items more easily and showing customers what is currently priced to sell. You can also target customers with complementary items when purchasing another, increasing your sales opportunities.
Industrial Distributors Focused on Customer Expectations Can Compete Effectively
Industrial distributors need to keep up with rapidly evolving customer expectations. They need to invest in an ecommerce platform that doesn't become a legacy solution after five years and that is designed specifically for industrial distribution. The reality is that basic shopping cart functionality has already started to become table stakes.
It isn't enough to simply sell products online; they also need to innovate around how to create digital experiences that meet the needs of their customers better than anyone else. Aldrich Web Solutions e-commerce platforms integrated with TrulinX ERP software will enable you to do just that.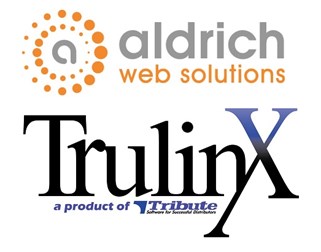 For more information about TrulinX ERP management software for industrial distributors, contact us or visit Tribute.com.
For more information about Aldrich Web Solution e-commerce platforms for TrulinX, click here or visit AldrichSolutions.com