Sign up for the Valve Manufacturing Association's Inaugural Valve Industry Knowledge Forum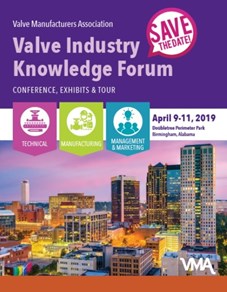 The Valve Manufacturing Association (VMA) is holding its inaugural Valve Industry Knowledge Forum April 9 -11, 2019 in Birmingham, Alabama.
The new Valve Industry Knowledge Forum combines the best of three different VMA meetings to create one education-packed event and attendance is open to both VMA members and non-members.
The Forum will have three distinct educational tracks:
TECHNICAL EDUCATIONAL TRACK – Subject matter specifically targeted to experienced technical and engineering personnel working with valves and related products.
MANUFACTURING EDUCATIONAL TRACK – Developed for those who work or supervise the production and assembly process in their companies.
MARKETING AND MANAGEMENT EDUCATIONAL TRACK – Developed for professionals new to the industry as well as those in management and marketing roles who wish to understand the various components needed to operate a successful valve business.
A joint event means more meaningful dialogue between different segments of our industry, an expansion of the attendee base and the ability for individuals to learn about various areas of the valve business.
Who Should Attend?
End users, engineering and consulting firm personnel, distributors, various personnel within manufacturing and supplier firms, and other related industry groups and professionals.
A pre-conference workshop on the topic of ASME B16.34 will be offered. This workshop is included in your registration fee at no additional charge.
Attendees to the 2019 VMA Valve Industry Knowledge Forum will receive a certificate for twelve (12) Professional Development Hours (PDHs) for attending the Knowledge Forum. Additional hours will be given to those who attend the pre-conference workshop.
Early Bird Registration
The early bird registration deadline is through February 15th, 2019. For more information, visit https://www.vma.org/page/KnowledgeForum.