Rubber Tree Systems Launches Rubber Tree Analytics for Industrial Distributors
Rubber Tree Systems introduces Rubber Tree Analytics for distributors to its portfolio of mobile sales tools. 
Rubber Tree Analytics is available on phone, tablet or desktop, and is fully integrated with Tribute's TrulinX and Tribute Software Systems, providing beautiful dashboards and visualizations of your data, customized just for you.
Whether you want to use predefined dashboards or build your own, this easy to use tool allows you to fully understand all aspects of your business.
Rubber Tree Systems has a proven track record with their technology, history, and most importantly, their development and support staff, offering sales force mobilization packages integrated with a variety of ERP packages, including TrulinX and the Tribute Software System.
Their simple-to-use UI and hassle-free, fully supported software allows their clients to concentrate on their day to day business, not on maintaining another software system. The Analytics tool features the following:
Executive Dashboards: Within seconds, an executive can view sales, orders, quotes, opportunities, AR/AP and inventory all from one simple, interactive dashboard. 
Scorecards: Predefined scorecards for sales, customer service, suppliers and customers let management know where your business needs attention. The ability to rank and score different areas can help with decision making going forward.
Sales Analysis: Analyze your sales by sales rep, customer, supplier, taker, location and more. See who is up and down with our leaders and bleeders report to find potential soft spots in your business.
CRM: Easily view opportunities, sales calls, leads and prospects right from your phone or tablet. Track your pipeline, prospect to customer conversion rate and more. Using our built in CRM or integrated ERP CRM, be fully informed on what your sales reps are doing and when.
Customer Service: View and track CSR performance by CSR, location or across the company. View daily sales, lines entered, margins and more.
AR/AP: Easily view accounting data to get a full picture of AR and AP by company, location, customer and sales rep.
Inventory & Item Analysis: Inventory can be your biggest asset. Easily identify and eliminate slow moving or dead stock. Determine value by class, location, product group, vendor and more.
Check out all the sales and management features of Rubber Tree Analytics by visiting www.rubbertreesystems.net or  contacting Rubber Tree Systems.  
+++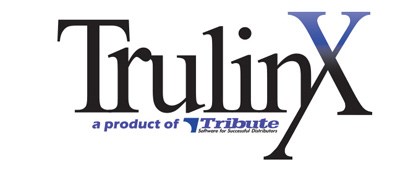 Tribute, Inc. provides ERP business management software to industrial distributors and is a long-standing partner of Rubber Tree Systems.
Tribute's TrulinX software for industrial distributors  is fully integrated with Rubber Tree's Mobile Salesforce and Analytics  software, providing Tribute customers the ability to service their customers at a higher level and analyze data more efficiently. For more information contact us or visit Tribute.com