Parker Announces PTS Mobile App

Parker Hannifin has launched the PTS Mobile component to the Parker Tracking System. With PTS, durable barcode labels are attached to Parker hose assemblies and related products to make identifying and acquiring products faster, easier, and more accurately. PTS Mobile enables users to initiate a replacement order directly from their smartphone.
By participating in the PTS program, the system captures detailed asset information, including:
Customer contact information;
Bill of material - hose, fittings, accessories, length, cleaning specifications, fitting orientation, lot number, custom instructions and more;
Application data - VIN, assembly date, system information, fluid and environmental data, installation location and more;
Replacement information and history;
Customized instructions for Maintenance, Repair and Operations (MRO) activities; and
File attachment storage for prints, certifications, photos and other documents.
Using the mobile device's camera to scan the barcode on the label, PTS will immediately verify the asset in Parker's global database. Customers also have the option to manually enter the unique PTS ID number into the system. For products that are not tagged or hard to identify, customers can send a photo of the part to a distributor for identification assistance.
After identifying the product, PTS Mobile asks customers to confirm the results before locating a distributor based on ZIP code or GPS data. An email containing the assembly details is generated by the app which is then sent to the selected distributor for quoting and processing.
The TrulinX ERP Software System Integrates to Parker Tracking System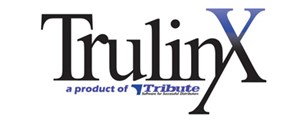 Parker and Tribute, Inc. have worked together to offer an interface between PTS and the TrulinX software system. Tribute works closely with Parker Hannifin to help our software users meet vendor requirements and maximize discounts all while selling the product in the most efficient manner.
Click here for more information on how TrulinX software can help streamline Parker distributotr's business processes, cut costs and enhance customer service.
Click here for more info on Parker PTS