NIBA Membership Benefits Belting Fabricators & Distributors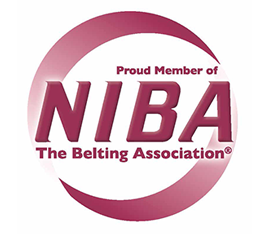 Are you a distributor of belting, hose, gaskets and related products? If so, you should be at the NIBA Convention currently meeting in Washginton D.C.! And if you are there, make sure you stop by the Tribute booth (#312) to say hello.
The Belting Association is a voluntary association of individuals and organizations who have joined together to further the interests of all fabricators, distributors and manufacturers of belting and related products.
NIBA is dedicated to promoting the interaction between value added distributors and manufacturers of conveyor belt components to improve technology, services and business practices to better serve the end users of conveyor systems. Membership in NIBA provides the following benefits, including:
Access to the latest industry information through participation in the Annual Convention, Belt Line Newsletter, NAM Economic News, and other periodic publications.
Personal interaction with the distributor/fabricator and manufacturing leaders of the conveyor component industries through the Annual Convention.
Opportunities to cooperate with other distributor/fabricators or manufacturers to develop better solutions for the end use customers of conveyor components through networking.
Improved technical skills for your associates through live technical training programs, Tech Notes publications and training videos.

Tribute is proud to be affiliated with leaders in the industry, such as the following customers that have served as president of NIBA:
Bill Hornsby of Chiorino America (immediate past president), John Shelton of Belt Power, Don Garner of Nashville Rubber and Gasket; Jackie Robb Britt and Harry Robb Jr. of Rubber & Accessories; and Ted Lushch and Olin V Hyde of Jerry Brothers Industries.  Bert Flieger of Chiorino America and Ryan Ezell of Nashville Rubber & Gasket also served on 2018 committees.
If you're a belting and rubber product distributor looking for an upgraded business and inventory management software, check out Tribute, Inc. We specialize in industrial distributors that provide fabrication services.
For information on the benefits of NIBA membership, click on this link to see all the benefits of membership.