Industry Trade Associations Help You Benchmark Your Company's Performance
Now, more than ever, you need to have your finger on the pulse of your business. You need to know not only how you're doing, but how you compare to those in your industry.
Tribute's software for industrial distributors will help you determine the state of your business with a wide variety of tools and reports to give you the up-to-date information you need.
How can industrial distributors rate themselves against the competition?
Many trade associations, like  FPDA, ISD, MCAA, NAHAD, NFPA, and PTDA, provide industry reports that provide a wealth of information that allows you to benchmark your organization against peers and keep on top of industry trends and forecasts.  
The National Fluid Power Association (NFPA), provides a Stats Toolkit,  the next generation of statistical tools available exclusively to their members. This cloud-based statistical toolkit expands members' economic view of their companies and the industry by combining NFPA data sources with popular analytical tools.  The Stats Toolkit allows members to:
Benchmark company performance
Automate time-consuming calculations
Conduct industry analysis
Identify leading indicators
Create custom forecasts
The NFPA also publishes an Annual Report on the US Fluid Power Industry, which reviews both the size and economic impact of the industry, as well as explores the energy consumption, best practices and current R&D directions of fluid power technology.
The Motion & Control Network (FPDA) and the International Sealing Distribution Association (ISD) offer several benchmarking reports, with one of the most informative being the Financial & Operational Benchmarking Report compiled by Calvello Research & Consulting.
This  report is an annual financial analysis of typical distributor performance in terms of sales growth, return on investment, gross margin, and additional comparative financial performance information. Participating members are provided an individual Company Productivity Report, which can be used to compare company profitability to the industry.
The Association for Hose & Accessories Distribution (NAHAD) in 2020 will be launching a new Benchmarking program that will be more streamlined and user-friendly.  NAHAD also provides a annual Compensation Report and Industry Trends Report.
The Measurement Control and Automation Association (MCAA) provides an Industry Market Forecast and an Monthly Bookings Report free for all participating members of the organization.
The Power Transmission Distributor's Association (PTDA) publishes the PTDA Power Transmission & Motion Control Market Size Report, an exclusive survey of PTDA's own membership to create a benchmark of the industry and provides data in 14 categories.  They also provide a quarterly Market Forecast Report, delivering market trend information.
How can industrial distributors measure their Key Performance Indicators?
TrulinX software by Tribute, Inc. can help you run your industrial distribution business efficiently and track your performance and Key Profit Indicators (KPIs), ensuring you are profitable and responsive in this tough market.  TrulinX can help you track critical profit variables, and monitor important metrics like lost sales,  inventory value by month and trends over time, on-time shipments, vendor service levels, lead time accuracy on new items, warehouse efficiency and more.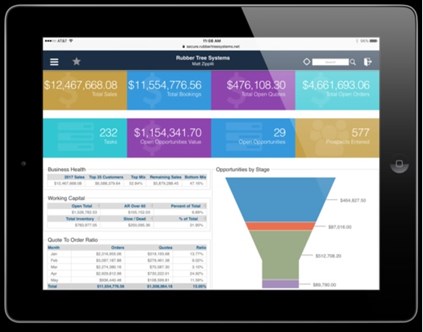 TrulinX is also integrated with Rubber Tree Systems Analytics software to provide easy to read dashboards with the timely information you need:  Executive Overview, Scorecards,  Sales Analysis, CRM and Customer Service info,  AR/AP,  and Inventory & Item Analysis.
Now is the time to analyze your business and compare it to similar organizations in your marketplace to determine the steps needed to make it more competitive and profitable. Contact us to find out how to track your KPIs and make your industrial distributorship more profitable.