Guest Post: Taming the Amazon Monster by 3 Aspens Media

By Karen Garvey
Senior Content Manager, 3 Aspens Media
Halloween may be over, but plenty of distributors are still spooked. And the monster inhabiting their nightmares? Amazon. (Or at least that's how it seems sometimes.)
The online giant cut its teeth by out-retailing retailers. Now, with Amazon Business growing– it expects to rack up more than $10 billion in sales this year – many wholesaler-distributors fear they'll be devoured next.
They don't have to be.
Talk throughout the distribution industry lately is about how to compete with Amazon Business. Modern Distribution Managment (MDM) has upcoming conferences centered on Amazon Business. (Dec. 4th, 5th, 6th) Over the past few weeks, many of our clients that serve the wholesale distribution industry have shared insights and effective strategies not so much for beating Amazon, but for playing a different game altogether.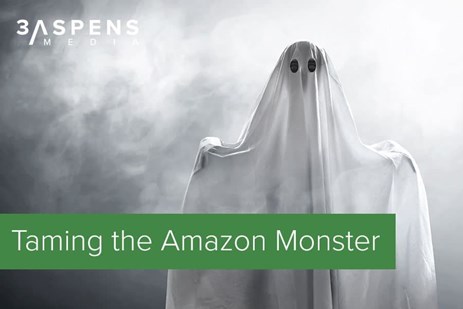 A few samples of that wisdom:
Mike Marks, managing partner of Indian River Consulting Group, wrote that Amazon "has done a great job of making it easier for people to buy products, but they haven't really made it easier for people to buy services. This is good news for distributors, because many of the products and services distributors sell go hand-in-hand."
Enavate Senior Director of Industry Solutions and distribution industry expert Matt Petersen took on the Amazon question in a recent blog of his own. Petersen advised distributors to keep in mind areas where they excel and Amazon doesn't, such as deep customer relationships and the in-house expertise to sell and service complex, technical and customized products.
Pairing those skills with the kind of technology that has propelled Amazon to create a great omnichannel customer experience, he wrote, can provide distributors a tremendous advantage.
Petersen followed that up with a presentation, "How Wholesale Distributors Can Win vs. Amazon," at the AXUG 2018 Summit in Phoenix last month. Read more about Petersen's presentation.
Some key takeaways:
The technology Amazon has employed to achieve its success is there for distributors, as well.
Artificial intelligence, chat bots, machine learning and other technologies can streamline distributor processes, make inventory control more efficient and smooth bumps in the supply chain – all of which can decrease operating expenses and increase margins.
Technology is a great—and essential – companion to stellar customer service. But it's no substitute for it.
As Petersen put it, "distributors need to hitch up their collective pants, get back to work – and put the customer experience first. Competing against Amazon is really that simple. You put the customer first. You make yourself uniquely valuable to your customers. "
Bottom line: With careful, forward-looking planning and effective strategy and the right investments (which we know can be easier said than done, but is necessary today), distributors have nothing to be afraid of where Amazon Business is concerned.
Read our take on competing with Amazon and other digital giants with online content that reflects your expertise and role in the market: Stop Reacting to Amazon – Here's How
3 Aspens Media specializes in B2B markets, with a focus on industrial marketing services for companies that serve or are in industrial distribution and manufacturing markets. Their services include Content Marketing, Writing Services, Editing Services, Custom Publishing, and Market Research.