Eaton's Digital Product Catalog Allows Users to Quickly Source Hydraulic Equipment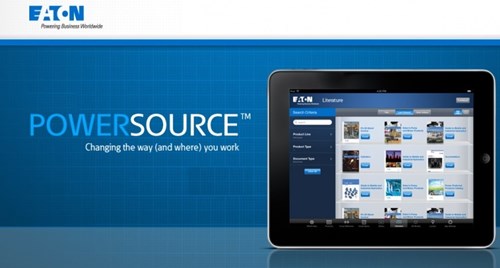 Eaton's PowerSource website provides information on more than 200,000 hydraulic products, and is available to all users.
"Growing from an iPad app to a website for Eaton employees and channel partners, the public launch of the site a natural expansion of this real-time, interactive hydraulic platform," said Eric Stager, marketing manager, Eaton.
The PowerSource website enables end users, OEMs and distributors across all channels to streamline the purchasing cycle through one seamless experience and contains the following tools and more to help you design and choose the right components and equipment:
Product Configurator 
Hose Assembly Building Tool
Crimp Specs
2D & 3D Models
Cylinder CAD configurator
Mobile Valve Configurator

Fuel Calculator
Coupling Comparison Tool
On Demand Presentations on the latest products
Calculators including their Filter Selection Tool
plus Hydraulics Training
More than 20,000 Eaton employees and distributors currently use PowerSource, and Eaton continues to add new features and product information on a regular basis.
The PowerSource catalog is available at www.eatonpowersource.com. To learn more about Eaton's hydraulic solutions, visit www.eaton.com/hydraulics. 
Are you an Eaton distributor looking for new distribution management software?
Tribute, Inc. , a provider of ERP software for hose and fluid power distributors, partners with Eaton Corporation to streamline their distributor's supply chain and lower operating costs. With features like Counter/Retail Sales module and Eaton POS and rebate reporting, take a look at what Tribute has to offer Eaton distributors.