Brennan Industries Acquires Miric Engineering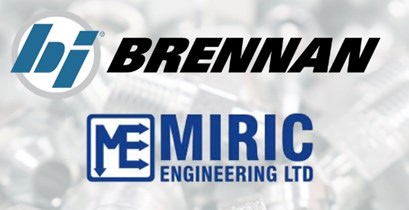 Brennan Industries Inc. announced the acquisition of Miric Engineering Ltd., a UK based manufacturer of standard and special fittings & adapters for the material handling industry, tube manipulators, off shore market, OEMs, and other end users.
The acquisition of Miric Engineering in July 2019 expands Brennan's global manufacturing footprint to five manufacturing centers worldwide. Brennan's manufactured product range includes Flare JIC adapters with O-Ring seals, a proprietary range of thrust wire BSP adapters, and JIC, ORFS, BSP and specials in stainless, brass and aluminum.
David Yates, former owner of Miric Engineering Ltd. said,"Becoming part of the Brennan team enables Miric to offer superior products and service to our existing customers, while presenting greater opportunities and resources to secure new customers. Joining Brennan will also provide excellent opportunities for our current employees as we increase our production capabilities with new products and services.  We are all very excited about what the future may bring for Miric as part of the Brennan family."
"Miric's advanced manufacturing capabilities will significantly improve our offering to customers in the UK and Europe," said Dave Carr, President of Brennan Industries. "As our company grows globally, the ability to carefully control all aspects of manufacturing and quality is critical to successfully serving our valued customers. The opportunities ahead of us continue to be tremendously encouraging, which will greatly benefit the associates and customers of both Miric and Brennan."
In business for over 65 years, Brennan supplies customers worldwide with more than 50,000 standard and special hydraulic fittings, adapters and O-rings in sizes ranging from 1/16 to 3 inches. These include a wide choice of fitting and adapter types such as tube, O-ring face seal, instrumentation, metric bite type, push-to-connect, conversion and flareless bite type, as well as valves, clamps and swivels.
A Tribute, Inc. customer for over 22 years, Brennan Industries stocks products at strategically located, full-service distribution centers across North America, Europe and Asia.