Ken Colberg Celebrates 25 Years with Tribute, Inc.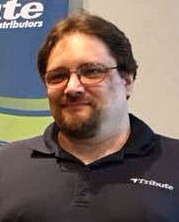 We are proud to celebrate with Ken Colberg, Tribute Software Developer, as he rang in 25 Years with Tribute, Inc. on May 1, 2022.
Since 1997, Ken has helped make great ERP software for fluid power distributors even better. Focusing on our Unix-based application, Tribute Software, Ken continues to work with the team to evolve the Tribute solution for our customers. Ken's role focuses on the design & composition of new programs and subsystems within Tribute, helping clients design processes and procedures that utilize the existing Tribute system features to accomplish their goals, and to provide technical support when needed.

Ken recently provided some insight on his 25 years at Tribute, Inc., what he likes best, and his biggest accomplishments since joining the company.
You have been with Tribute for 25 years – what has kept you here?
That's easy. The people. My peers and our customers are very pleasurable to work with.

What do you like most about your position at Tribute?
The aspect I like most is coming up with new and creative ways to help our clients run their
business more efficiently. Sometimes that is new programs or reports to analyze existing
information in a desired manner. And sometimes that is creating a whole new subsystem to
Tribute to accomplish a given task or interface with other software packages.

You've seen a lot of changes at Tribute and the industry in general over the years.
What do you see as the biggest accomplishment for Tribute Software?
The biggest accomplishment by Tribute Software is keeping up with the ever-changing world
of the distribution industry. They are constantly changing with the times and developing
new ways to operate as efficiently as possible and offer new approaches to service their end
customers. Those changes can be driven by new technologies that become available or by
the distributor developing new methods for delivering or managing their inventory or
servicing their customers.
No matter what the source of the change is, Tribute Software constantly develops new
methods to help their distributor users keep up with their customer's ever-changing needs.
Additionally, Tribute Inc. as a company has continually evolved over the years to improve
itself in every way shape and form. We are constantly on the lookout and implementing new
tools to manage all aspects of our business including Project Design & Development,
Customer Support, keeping up with new technologies, etc. to provide distributors the best
software solutions and support possible to run their business.
Tell us about your favorite features or game changers that have helped our
customers streamline business processes.
There have been so many introduced over the years, it is hard to choose. To list a few of
them, they include: credit card processing, e-commerce solutions, barcoding, ACH and
Positive Pay interfaces, inventory management, shipping software interfaces, distributor
inventory sharing, and much more.
Is there any other information you would like to share about your tenure with
Tribute?
Quite a few Tribute employees have been with the company for a very long time. That in
itself says a lot about the company as a whole. Not only is there a veritable fountain of
knowledge available between them, it states that they are good at what they do and that
they truly enjoy it. I actually worked with Tribute as a sub-contractor for about a year and a
half before I started full time with them. In that short time, I enjoyed the work so much and
saw how passionate the employees and customers were about their jobs. After that, I was
hooked and signed on full time.