Tribute Partner Spotlight: Effective Inventory Management
Jon Schreibfeder gives an overview of how Effective Inventory Management can help industrial distributors understand their inventory levels and turns, manage their warehouse flow, and maximize net profits - all to help you take care of your greatest asset - inventory.
Effective Inventory Management will work with you to analyze your inventory using their comprehensive set of tools:
4-way ranking
tracking progress item by item over a period of time
organize warehouse flow to minimize the cost of filing order
Contact Effective Inventory Management
Effective Inventory Management
972-304-3325

Jon Schreibfeder
President
EMAIL JON

Matt Schreibfeder
VP of Analytics
EMAIL MATT
What is Effective Inventory Management?
Tribute Consulting Services
The Tribute Expert for a Day service allows you to "hire" a Tribute team member to work directly with your employees at your facility for a day. The expert will be available to answer any questions or concerns you may have regarding the basic programs of Tribute.
Need help troubleshooting an issue? Need some old data cleaned up? Want a consult on business efficiencies? Need to train some new employees?
An Expert for a Day can help!
A Tribute Expert for a Day can be scheduled to address any of the following issues:
Special projects
New release and graphical enhancement training
New employee training
Ongoing efficiency improvements
Customized training
Question and answer session
Contact Tribute Support or 800.874.2883, ext. 400
Tribute Software System Training
A well-trained staff maximizes the return on your investment and increases your profit margins.
Tribute Online Education helps you:
Maximize efficiency and productivity
Reduce training expenses
Reduce employee downtime
Train new employees quickly
Optimize skills retention
Benefits: Online training helps reduce travel costs and downtime associated with traditional training and allows your staff to implement knowledge gained immediately, offering real value to your work force.
Tribute's live virtual classes led by an instructor are one hour in length and cover a wide range of topics to enhance your expertise of distribution practices and the Tribute Software System.
Additional Services for Your Tribute Software System
For more information on third party software, server migrations, or user upgrades, contact Jeff Waite, Customer Relationship Manager. phone: 800.874.2883, ext. 2250.
For an Introduction to Tribute, Helpful Software Tips, Tribute Tuneups and Tuneup Notes, Training & Consulting Info, TribNet and Preferred Solution provider info and more, visit the Tribute Self Service Center.
Refer a Qualified Prospect to us and earn referral credit off of your subscription service!
Scroll to bottom of page to sign up for our bi-weekly newsletters!

TribNet 2022 will be presented in a hybrid format.  Watch for further details to come.

Save the Date! June 13-17, 2022

Marriott Cleveland Downtown at Key Tower
Classes available but not on the schedule for 2021.
New User Introduction to Tribute
A basic primer for new users of the Tribute system. How to navigate the screen, how to search for programs and documentation, how to use shortcuts and icons, tips & tricks for reporting, and an overview of basic inquiries.
Reconciliation: Inventory, A/R & AP
This class will take you through the reports and steps to reconcile your inventory, accounts payable, and accounts receivable.
Register to Receive the Tribute Software Newsletter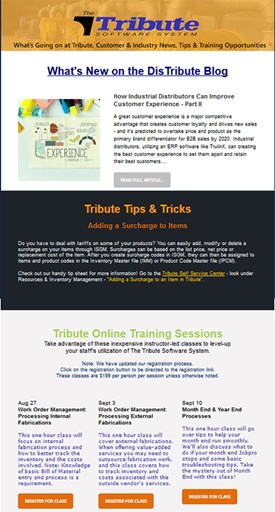 Think of our support staff as one of your own, you'll know us by name and you'll be confident that we will always be there for any of your questions or concerns. Interested in learning more? Reach out to our sales team at 800.874.2883 or complete this online form.