Tribute is proud to be an endorsed ERP supplier to IDCO members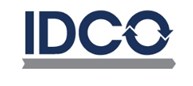 Tribute is proud to have been selected by IDCO to be a premium and endorsed supplier of ERP business management software. Our selection means IDCO acknowledges Tribute's commitment to providing excellent service and a quality ERP solution that allows our customers to prosper and thrive.
Power Up Your Business with TrulinX
Special Deal for IDCO Members...
An IDCO member that invests in TrulinX by Tribute, Inc.  within 90 days of the 2021 IDCO Expo, will get one of two deals:
FREE Server for On-Premise TrulinX Solution
or
3-Month's FREE Cloud Hosting Fees for TrulinX Cloud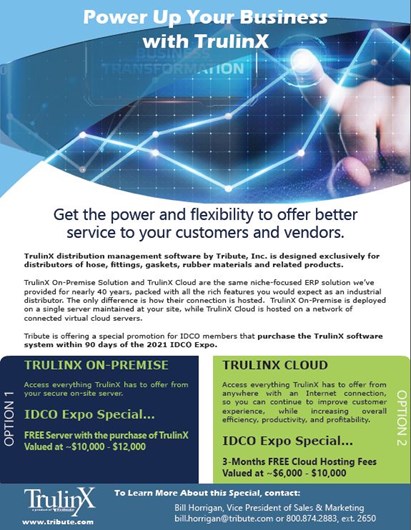 Get the power and flexibility to offer better service to your customers and vendors.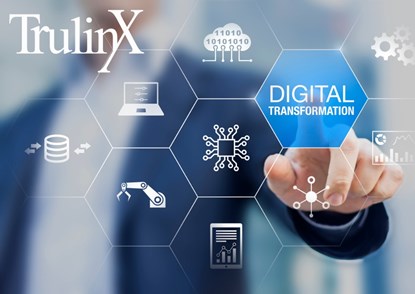 For a hose distributor, it's not so easy to get tight and accurate control over inventory while also increasing productivity. What if you had a tool that could help your CSR's generate complete hose assemblies in seconds? And what if this same tool automatically calculated cut-off lengths, material cost and labor amounts and allowed you to automatically generate serial numbers & labels? TrulinX Software does it all.
With the TrulinX lot tracking system, you can make time-consuming tasks as simple as the click of a button. Hose & Rubber Distributors business requires a sophisticated inventory management system - and that may include the ability to determine at a moment's notice which vendor provided you with a product, and which customer took delivery of a specific lot, heat, or batch.
We Know Your Industry. We Deliver Results.
Tribute caters specifically to your marketplace and understands it
Rapid training and installation with industry best practices
Training team led by staff with more than 37 years of experience in hose and rubber distribution
Superior, knowledgeable and personal software support
Partnerships with your premium suppliers: Brennan Industries, Continental ContiTech, and Dixon Valve & Coupling
Strategic partnerships with major manufacturers: Eaton, Garlock, Gates, Parker Hannifin, Manuli, Ryco, Sun Hydraulics, and Airway Manufacturing
EDI integration
Integration with WarehouseTWO and DistraNet for inventory sharing
Manage complex fabrications down to the component level with our sophisticated Work Order Management module
Eliminate manual business processes by streamlining operations
Lower operating expenses by eliminating manual calculation of commission, vendor reporting and rebates
Better track your inventory & reduce excess or over stock

Barcoding / Cycle Counting
Serial number tracking
Sophisticated lot control

Tools to meet today's hose and rubber product distributor's critical business needs:

Industrial hose assemblies, gaskets, seals, O-rings and conveyor belts
Easily track and manage hose lengths and scrap
Automatic labor calculations based on hose length and diameter of fittings
Automatic cut-off length calculation
Crimp and assembly instructions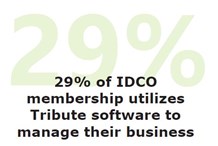 Tribute has been exclusively focused on your market niche for nearly 40 years and we are proud to call these IDCO members partners...
A-1 Coupling and Hose | Eugene, OR
American Hose & Rubber | Tucson, AZ
Auster Rubber Company, Inc. | Brooklyn, NY
B&B Hose & Rubber Co. | Chesapeake, VA
Brennan Industries | Cleveland, OH
Briggs Company | New Castle, DE
Commerce Hose | Commerce, CA
D&M Hydraulics | Waipahu, HI
Flexline Inc. | Kenilworth, NJ
Frank Murken Products | Schenectady, NY
Geib Industries | Bensenville, IL
Hose/Conveyors, Inc. | Eagen, MN
Hose & Rubber Supply | Salt Lake City, UT
Mid-State Sales | Columbus, OH
Power Product Technologies, Inc. | Denver, CO
River Bend Hose Specialty, Inc. | South Bend, IN
Rubber & Accessories | Lakeland, FL
Shamrock Hose and Fittings | Cleveland, OH
Southwest Rubber & Supply | Phoenix, AZ
Specialty Hose Corporation | North Canton, OH
TCH Industries | Twinsburg, OH
Transmission & Fluid Equipment, Inc. | Fort Wayne, IN
IDCO Member River Bend Hose Speaks Out
Hose distributor focuses on ERP software to manage growth
Jay Adams of River Bend Hose Specialty discusses how his company needed a robust ERP system to meet its strategic business goals. Continued expansion and acquisition made the need for a strategic software partner crucial.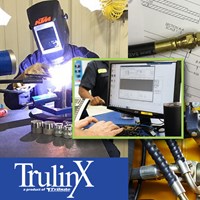 September 10, 2020
Today's hose distributors are looking for ways to tighten and gain more accurate control over their inventory while increasing productivity. That is not such an easy endeavor for some distributors, particularly if they are running on an outdated ERP solution or performing the process manually. However, the path to inventory control and efficiency for hose distributors can be accomplished with the right tools or practices in place. We've compiled our best practices and considerations for hose distributors – paired with insights from longtime customer, Colliflower, Inc., and Tribute's Vice President of Sales and Marketing, Bill Horrigan....
Tribute is a member of your industry's trade associations...
Tribute is a member of your industry's trade associations including IDCO, FPDA, ISD, GFA, NAHAD, NFPA and NIBA. We partner with major manufacturers including Eaton Corp., Bosch Rexroth, Gates Corp., Garlock Sealing Technologies, Goodyear, Pall Corporation, Parker Hannifin and others.
We are excited to show you more! Request additional information or a consultation.