TrulinX ERP Software Success Story: River Bend Hose Specialty

When hired to be the operations manager of River Bend Hose Specialty based in South Bend, Indiana, Jay Adams knew that the right ERP system was needed to take their business to the next level.
River Bend Hose Specialty is a distributor & manufacturer of Industrial & Hydraulic Hose Assemblies as well as Power Transmission Components, such as bearings, cylinders, motors, belting, gear drives and sheaves. Their specialty is solving difficult design and fabrication problems for their customers. Here's what Adams has to say regarding their decision to implement TrulinX by Tribute, Inc.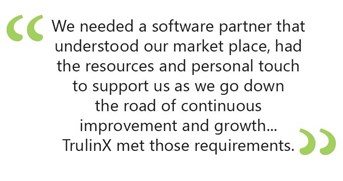 "As River Bend continues to grow with our current operations, through expansion and acquisition, we came to the conclusion that an ERP system needed to part of our business strategy.
We needed a robust ERP system that was capable of handling all aspects of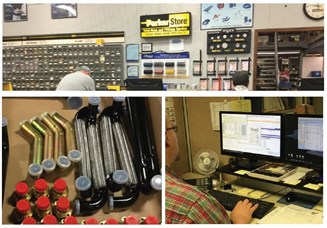 our business, including divisions and acquisitions. We also needed a software partner that understood our market place, had the resources and personal touch to support us as we go down the road of continuous improvement and growth.
TrulinX met those requirements. TrulinX specializes in the Value added Distributor / Manufacturing market place. They are very hands on, flexible, and committed to excellent customer service."
Key areas of our business we needed our new ERP software to handle:
Hose Distribution Division - we are a typical Value Added Hose Distributor with one of the most active ParkerStores in the country
High Volume Counter Sales - ParkerStore sales - the ability to service the customer quickly
Hose Production – the ability to create BOMs on the fly
High Production Automotive hose and tube assembly - Our division for the auto and trucking industry in Indianapolis, Fluid Handling Technology, handles complex BOMs with subassemblies 6 levels deep with up to 3 outside processes involved
The ability to handle external fabrications and outsourced work
Metal Products Division that produces Metal hose, Hydraulic Pipe, and Tube assemblies involving bending, welding and potentially another dozen operations involved. Wanted to be able to track costs for every component and parent item
Cylinder Repair business
Precision Machining with Bill of Materials that are sub-assemblies for BOMs in our other departments or stand alone for an end customer
Corporate level needs included a robust accounting program with financial reporting capabilities to handle multiple departments, entities and ease of adding future acquisitions, such as our acquisition of Scotty's Hydraulic Service of Plymouth, IN in July 2019.
---
Tribute, Inc. is the leading provider of ERP distribution management software for industrial distributors that provide value-add services. For more information on TrulinX, fill out our contact form or call us at 800-874-2883 and ask for sales.