Tribute Customer Spotlight: Summers Rubber Company
Summers Rubber Company celebrated its 65th anniversary in 2014 and remains a leading source of industrial & hydraulic hose and accessories.
Founded in 1949 by W.H. Summers, the customer-centric company was helmed by family members until its acquistion by Singer Equities - a decentralized group of value added distributors in the industrial rubber products industry. 
A Proud History Based In Cleveland, Ohio
Summers Rubber is proud of the company's history, diversification, and plans for the future. Based in Cleveland, the company has eight locations throughout Ohio and western Pennsylvania and has taken advantage of the increase in oil and gas exploration and fracking in the Utica and Marcellus Shale formations to expand their business.
Summers Rubber has become successful by combining a unique dedication to customer needs with an in-depth knowledge of hose, components, fittings and accessories.
Focus on Quality Hose Fabrication & ISO Certification 
This philosophy has guided the company's growth. Each Summers employee undergoes extensive training and many of the sales personnel and fabricators are NAHAD certified. Summers Rubber is committed to quality and has been ISO certified since 1996.
Fabricating hose from primary suppliers Gates and ContiTech, Summers Rubber also offers a wide variety of services including application engineering, custom labeling, tagging and color coding of hose, customer training programs, custom cutting of gaskets, Just in Time delivery for MRO & EOM programs, on-site product and application surveys, preventative maintenance programs and more.
Oil & Gas and Much More
Aside from the oil and gas industry, Summers Rubber services the following markets as well: agriculture, chemical, construction, food/beverage/dairy, HVAC, injection molding, marine, municipal/government, paint processing, petrochemical processing, pharmaceutical, plastic processing, primary metals, pulp/paper, transportation/bulk handling, utilities and wood processing. Their OnGuard Asset Management for Hose Safety Program focuses on critical hoses powering critical equipment.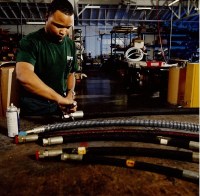 The acquisition of the company by Singer Equities in 2012 did not change the name or organization of the company. Singer Equities left everything in place and since Summers Rubber is so successful at what they do, they have become a platform business for Singer Equities, connecting other acquired companies to Summers Rubber to utilize their resources and expertise to help them grow.
A ContiTech Premier Distributor, they also supply products from Gates Rubber, Dixon Valve & Coupling, Eaton, Flexaust, Hose Master, Kuriyama, HBD Industries, PT Coupling, Flexfab, Crane Resistoflex and Parker Hannifin. Click here for their premier supplier list.
A long-standing Tribute customer and partner, Summers Rubber has utilized software by Tribute, Inc. to run their business efficiently and successfully since 1991.
You can find Summers Rubber on Facebook, Twitter, and LinkedIn. Click here to read an article by Business World Magazine on Summers Rubber Company - Celebrating the Past, Planning for the Future. (Page 152)
Summers Rubber Company
800-686-5801
www.summersrubber.com