Tribute Customer Spotlight: Hyspeco, Inc.
A full line fluid power distributor of motion and control equipment, Hyspeco, Inc. services the Industrial, Agricultural, Aerospace and mobile markets in Kansas and Missouri.
Founded in 1969 by Buford "Penny" Pendergrass, Hyspeco was purchased by Bob Stancer from Pendergrass in 1979, who ran the company for the next ten years. Hyspeco became an ESOP in 1989 and still remains an employee owned company.
Employee Owned and Operated by Certified Staff
Hyspeco is a full-service distributor with the capability of providing motion and control solutions ranging from components to design and fabrication of pneumatic hydraulics on electro-mechanical equipment. Carrying a number of fluid power products, their premier product line is Parker Hannifin.
The only authorized full line Parker Hannifin distributor for motion and control product in the Wichita Kansas and Springfield Missouri area, Hyspeco operates six Parker Stores located in Joplin,  St. Louis, and St. Joseph, MO, Decatur, IL , and Kansas City, KS.
Their ParkerStores are a complete source for quality tube fittings, hose and hose fittings, brass fittings and valves, quick-disconnect couplings, and assembly tools. Each store has an on-hand inventory of over 5,000 items to meet customer's 'right now' requirements.
Carrying an Extensive Inventory of Quality Products 
In addition, Hyspeco's ParkerStores have access to $2.9 million in regional inventory and over $80 million in inventory nationally, allowing Hyspeco to meet customer needs quickly. Hyspeco rebounded in a big way from the recession and their sales grew 52% in 2011 and in 2012 they received the  Wichita Metro Chamber of Commerce Small Business Award. In 2013 and 2014, Hyspeco was a Wichita Business Journal Best in Business finalist.
Along with maintaining local inventory, Hyspeco provides a variety of value added services by a staff that attains expertise through traditional universities or ongoing fluid power training. All outside sales representatives, service technicians and engineers are certified through the Fluid Power Society (FPS).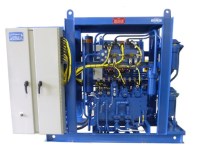 All Hyspeco sales staff, service technicians and engineers are certified with Parker Hannifin's training programs in the areas of hydraulic, pneumatic and fluid connectors. Hyspeco alsos offers a wide variety of fabrication and industrial production services, including power units.
With a dedicated service group available on site 24 hours a day, 7 days a week, and 365 days a year Hyspeco can assist in troubleshooting, repair and service of equipment.
A Certified Parker Training & Technology Center
Hyspeco is an authorized Parker Hannifin training center with training facilities in-house or at the customer's facility. Hyspeco's commitment to education is also available to customers and they currently provide customers with several forms of supply chain management including JIT, vendor managed inventory, sub-assemblies, kitting, packaging requirements, bar coding, engineering and service work.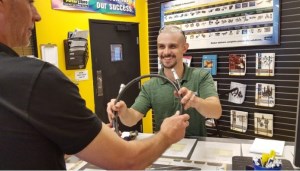 A Parker Hydraulic Technology Center, Pneumatic Plus Technology Center, Mobile Technology Center, Full Line Parker Connector Center and an authorized Parker Training Center, Hyspeco services include:
System Design
CAD Drawings
Hose & Tube Assemblies
Hydraulic & Pneumatic Component testing
Custom Power Units
Custom Assembly
Kitting
Field Services
Fluid Power Training
A Tribute customer since 1991, Hyspeco opted to remain in the Tribute family and invested in the TrulinX software system in 2015. Through the years, Hyspeco has had significant and progressive growth with the addition of four branches and an average growth of 11% per year. Optimizing their use of technology, Hyspeco is the premier fluid power and Parker Hannifin product distributor in Kansas, Illinois and Missouri.
Hyspeco, Inc.
800-234-1041
www.hyspeco.com
Twitter Acount