Tribute Customer Spotlight: Geib Industries
Geib Industries has been helping Chicago area customers solve their hose and fitting requirements since 1947.
A service-oriented supplier/manufacturer focused on engineered solutions for their customer's hose assembly and component needs, Geib Industries works hard to keep on the forefront of the continually changing hydraulic industry.
Hose & Fitting Solutions for a Wide Variety of Industries

With a full service Eaton Aeroquip Express Hose Center, Geib also distributes a wide variety of hose and fitting products including ContiTech (Goodyear), HBD Thermoid, Synflex, Kuriyama, Penflex, Dixon Valve & Coupling, among others, supporting a wide variety of industries.
In addition, Geib's website offers a Resource Center with a great selection of catalogs, videos and hose selection guidelines.
Geib Provides Quality Hose Assemblies by Adhering to NAHAD Safety Institute Standards
A member of NAHAD's (The Association for Hose & Accessories Distribution) Hose Safety Institute, Geib Industries trains its staff on and adheres to the rigorous NAHAD Hose Assembly Guidelines.
Chris Geib, President of Geib Industries, is a member of Eaton's advisory board and active in NAHAD. A member of the NAHAD board since 2011, Geib served on the Education, Training, and Services Committee and Young Executive Council. Geib believes that it's important to get young executives and future leaders involved in the industry and facilitate more business succession.
Business is All in the Family
In the business since 1989, Chris Geib started out pushing a broom and working summers at the family business. By the time he went to college, he had earned a sales position and beat the streets cold-calling in and around the Chicago area. After stints as sales manager and vice president, Geib is now the president and owner of the company.
"Growing up in the hose business has been great. I wake up every day excited about what the new day will bring for my company and our industry", states Geib. He firmly believes that the success of Geib Industries is built upon meeting the expectations of their customers. "We are a job shop, not a large production house," Geib says of his talented and hardworking staff.
Offering Smart Technology Solutions to Customers
This specialization allows them to work with customers to implement new smart technologies – monitoring the condition of a hose throughout its lifetime, warning users of a possible impending failure and preventing potential hazards and spills. 
An ISO certified company, Geib Industries has been using ERP business management software by Tribute, Inc. to run their business for over 25 years.
Open six days a week, they operate a full service counter and strive every day to fulfill their mission – to be the leader in the hose and fittings industry.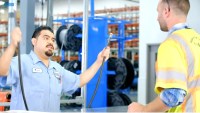 Congrats to Geib on their award as one of Eaton's Top 24 Distributors. Plus, check out the video of their new and expanded facilities, added in 2016.
Geib Industries
901 East Jefferson Street
Bensenville, IL 60106
847-455-4550 or 888-455-3549
www.geibind.com