Tribute Customer Spotlight: Behco-MRM

Behco-MRM, Inc., headquartered in eastern Michigan, is a quad-technology distributor and integrator providing motion control solutions with pneumatic, hydraulic, electro-mechanical, and collaborative robotic technologies.
Founded in 1964 Behco, Inc. began as a stocking distributor of both pneumatic and hydraulic components. The change to new and aggressive ownership in 1987 initiated the change from simply providing components to a full service pneumatic, hydraulic, lubrication, motion control, automation and robotic distributor and integrator with in-house engineering and manufacturing capabilities.
Behco-MRM Grows Through Acquisition and Diversification
In 2006 Behco, Inc. was purchased by H&P Technologies, a diversified industrial distributor and service and repair company. The company is now operated as Behco-MRM, a division of H&P Technologies. In 2009 H&P Technologies purchased the assets of the Don Blackburn Co. and integrated the business into the Behco division which expanded their product offerings and capabilities in the area of motion control and automation products.
In 2011, H&P Technologies purchased MRM, Inc., and merged its operation into Behco making them one of the premiere fluid power and motion control distributors in Michigan. With their technical sales staff, application engineering department, and integration and manufacturing capabilities, their goal is to be a value-added partner to their customers. Behco-MRM has also opened a second branch in Western Michigan.
Also that year, Behco-MRM upgraded technology by investing in TrulinX by Tribute, Inc.  In 2012, Behco earned the Tolomatic Top Distributor of the Year and the Top 10 Distributor in 2013.
Behco-MRM a Quad Technology Distributor & Integrator
Behco-MRM provides full application engineering and manufacturing capabilities focused on the following areas: Pneumatics and Fluid Controls, Motion Control & Automation, Engineered Systems, Industrial Hydraulics & Lubrication, Mobile Products, and Collaborative Robotics.
They can design and fabricate hydraulic power units, drives, manifold assemblies, electrical control panels, lubricating systems and packages plus provide air preparation equipment, control valves, sensors, filtration, motors, actuators, sensors, pumps, cylinders, and much more.
Behco-MRM can engineer collaborative robots for a variety of uses including autonomous robotics, end-of-arm tooling, 6-axis robotic arms and more.
Growth Through Focus on Technological Changes
Behco-MRM has enjoyed enviable growth over the years, adding a second location in Western Michigan, by staying focused on continued improvement and current on technological changes in both products and applications.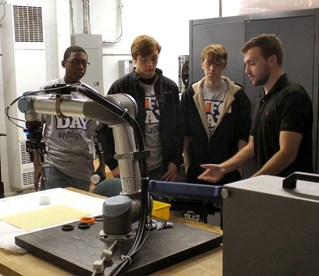 Knowing that a skilled labor force is important, Behco-MRM also participates in the annual Manufacturing Day program, an initiative meant to inspire the next generation of manufacturers.
With a firm belief that the customer truly comes first, Behco-MRM serves their customers as a valued partner from basic component sales to customized engineered solutions.
Behco-MRM
Eastern MI: 1666 E. Lincoln Ave. Madison Heights, MI 48071
Phone: 586-755-0200
Western MI: 3229 Oak St, Ste 108, Hudsonville, MI 49426
Phone: 616-272-7910