Top 4 Myths About Migrating to the Cloud
This guest post is brought to you by Scantron Technology Solutions, Tribute's Best in Practice solution partner for hardware, installation, monitoring, and on-site service.  Scantron has the expertise necessary to keep your organization running smoothly.
---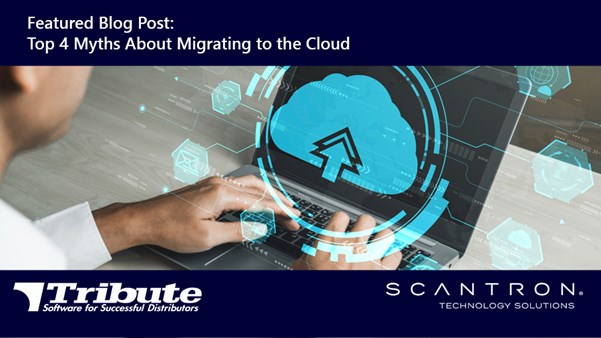 When you ask ten people what the cloud is and what does it do, chances are you will get ten different answers.  One definition of the cloud refers to software or services that you access via the Internet instead of locally on a hard drive or server.  There are many aspects to the cloud and many misconceptions about the technology and the impacts on businesses.  Here are four reasons many companies aren't using cloud computing technology to its fullest potential.
The cloud is a cheaper option.  Moving server workloads from a physical server to a cloud platform in the cloud may not save you money. When you factor in the cost of the virtual server, support, and updates, you may spend about the same. There may be savings opportunities in LAN/WAN or other telecommunication components, and you can account for the savings of less downtime and higher security. Consult with your accounting department to help you navigate and prepare for the spend shift from capital expenditures (one-time payments) to operational expenditures (monthly payments). Take the time to look for updates and reallocations of expenses.
If it runs on a physical server, it will run in the cloud. Before moving any application to the cloud, it is critical to test the applications to ensure optimal performance and security. Proper testing will ensure the processing logic is error-free and withstand threats like DDoS attacks and phishing attempts. It would be best to account for additional testing and staff training in your cloud migration plan to lower disruptions to employees and end-users.   
I no longer need IT support.  IT support is often perceived as a break/fix role, but when you move to the cloud, it becomes a proactive role to anticipate emerging threats and performance enhancements. While your cloud provider may take over specific IT tasks, there are components it may not cover, like operating system updates, firewall management, and workstation support. Your IT demands will evolve and transform. And chances are, you won't migrate everything to the cloud and will keep some components of your IT on-premises or in a data center
Moving to the cloud isn't secure.  Data security should be a key component in your cloud migration plan. According to Forbes, 2021 was a record year of cyberattacks, and many small to medium-sized businesses were the target. Data centers spend millions of dollars annually on security, reliability, and power redundancy to ensure their cloud environments are reliable, available, and secure. In addition to the security measures taken by businesses, these extra layers of data center security help to ensure your data is safe in the cloud. 
Lessons Learned by a Healthcare Practice
In a recent episode of Rapid Rundown, cloud expert Mark McGuire shared a story of a healthcare provider who eliminated their IT support after they moved to the cloud.  This company had data in the cloud and on-site being accessed by remote workers and workers from multiple practice locations.    An evaluation of their current internet service provider (ISP) uncovered the need for a failover ISP, switches and firewall management to ensure redundancy. 
Underestimating the management of the various networks, cloud applications, and data in the cloud made for a poor end-user experience, and you can't ignore a single point of failure.
After an assessment and long-term cloud strategy, the healthcare provider has successfully used cloud technology, with IT support from the STS cloud team, and has not fallen victim to any other cloud myths.
Upgrade Your Business Management Software to the Cloud
Tribute is proud to offer TrulinX Cloud, our cloud-based ERP business solution for innovative industry-leading companies that want the best technology to run their business. TrulinX Cloud is hosted on a network of connected virtual cloud servers, allowing you to access everything TrulinX has to offer from anywhere with an Internet connection.
Contact Tribute today to learn more about business cloud migration and ERP software solutions.