Customer Spotlight: Goldstein-Schwartz, Inc.
Goldstein-Schwartz is a family owned business that has been involved in the hose industry for 90 years. They're headquartered in St. Louis and have a branch in Ft. Lauderdale, Florida and specialize in making hose assemblies consisting of rubber, plastic, metal, fluoropolymer and composite materials.
The company was founded in 1929 by Joe Goldstein and his brother-in-law Dave Schwartz. They started the business as junk dealers and the family jokes today about starting out as horse traders. 1929 was a tough time to start any business and this one survived, primarily due to the two men that started it and their determination to sell what the public and other businesses would buy.
WWII Shapes Business Toward Rubber Hose Industry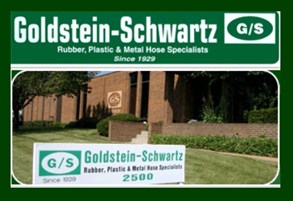 And what did that include? Rubber products from Goodyear in Akron and Gates products from Denver, and Mr. Goldstein made personal trips to secure it! When World War II made it hard to find metal, the company gravitated more heavily into the rubber hose business.
Joe's two sons returned from the war and one went into the business directly, the other went to school. However, the second son soon found that he wanted to be in the family business as well and left school, never looking back.
Despite changes over the years, the family business continues to grow and prosper. Emily Goldstein, the first female family member and the 4th generation joined the company full time in 2012 and brings new and innovative ideas to the company. She works primarily in purchasing, but also holds responsibility for collections, and sales, along with any daily needs.
Goldstein's Vaulable Input Contributes to Growth of Tribute Software
Many of you know Michael Goldstein as a past president of the Tribute® User's Group. Michael says he was not really sure what the position meant when he was voted into the office. But he sure has had "a great time doing it". "I've met and talked to people I normally would not have had any contact with. I've gotten to go to Program Review, and it's been very interesting and educational. I recommend everyone sit in on Program Review!"
When asked his opinion of Tribute for his business he quickly responded, "Tribute is invaluable! The software is always on the cutting edge. It's incredible the insight Tribute has into the business". While he recognizes that they don't use everything Tribute has available, what they use is "extremely valuable to us".
Invest in Good ERP Software to Gain the Advantage in Tough Times
Goldstein advises businesses to utilize software to their advantage in tough times. They invested in software by Tribute, Inc. in 2000 and have been using it since then to run their organization efficiently and profitably.  "Consolidation is making competition stronger. You need to save money and become more efficient. Software will accomplish that. Tribute stays on the cutting edge with monthly updates to their software. Not every software company does that for their customers. We spent a lot of money up front with our software but it's satisfying to know that this is another piece of the business running smoothly."
Goldstein-Schwartz hoses handle the transport of anything from water to solid materials through suction or discharge and chemical transport as well. They also handle non-stick hoses for anything from standard pipe fittings to sanitary fittings, from exotic alloys to standard carbon steel, stainless steel, and brass.
Their composite hose products are designed and manufactured to meet the critical requirements of chemicals and fluid handling. To check out their online catalog, click here.
Goldstein-Schwartz
St. Louis, MO & Ft. Lauderdale, FL
800-325-4001
www.gshose.com
Note: Originally published in 2009, this post was updated in Jan 2019.