Tribute, Inc. Expands Business Development Team with Timothy Simpson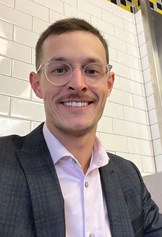 Tribute, Inc. is excited to announce the addition of Timothy Simpson to their team as a Business Development Representative. With over 38 years of experience in the ERP software industry, Tribute has a deep understanding of the unique requirements of industrial distributors and has incorporated them into every aspect of their TrulinX software. Timothy will be responsible for introducing this powerful software to new customers in the build-to-order manufacturing, fabrication, and distribution industries.
As a Sales/Leadership Expert with over a decade of experience in Financial/Software sales, Timothy has a proven track record of B2B, Financial, and Software Sales. He is regarded as an expert in Sales Philosophy/Team Building. "We are excited to have Tim join our team," said Bill Horrigan, VP of Sales & Marketing of Tribute, Inc. "His extensive experience in the technology sales industry and his knowledge of the industrial distribution industry make him a valuable addition to our team."
"I am thrilled to be joining Tribute, Inc. and to be selling the TrulinX software," said Tim. "I am confident that this software will help build-to-order manufacturers, fabricators, and distributors improve their customer experience, while increasing overall efficiency, productivity, and profitability."
TrulinX is the most versatile and sophisticated software on the market, designed to help industrial distributors provide a wealth of value-added services to their customers while also finding ways to streamline their operation. It offers specialized features for engineered products, fluid power and motion control, industrial hose and accessories, fluid handling and flow control, fluid sealing, instrumentation and process control, automation and robotics, and pump distribution.
Tribute, Inc. has a deep understanding of the unique business needs of industrial distributors and serves hundreds of customers throughout North America, providing specialized solutions for hose and accessories distributors and fabricators, engineered products, fluid power and motion control, fluid handling, and more.
To learn more about TrulinX and how it can benefit your business, contact Tim at timothy.simpson@tribute.com or visit www.tribute.com.