Tribute, Inc. Strengthens Partnership with Bosch Rexroth
Tribute, Inc. has forged and maintained a strong relationship with Bosch Rexroth in order to anticipate their distributor's needs. By working closely with Bosch Rexroth, Tribute helps their software users meet vendor requirements and maximize discounts – all while selling the product in the most efficient manner.
TrulinX ERP Software Offers Beneficial Tools for Bosch Rexroth Distributors
TrulinX software users can easily generate a Point of Sales Report to report their sales to Bosch Rexroth each month. TrulinX will then generate an output file that conforms to Rexroth Bosch's formatting requirements, including Rexroth's DCUS ID number.
The report can be used for rebate purposes and can be generated for a single vendor product category or company location or all vendor product categories/locations. The report contains all the detailed information Bosch Rexroth requires and can also be run for a specific date range.  TrulinX allows the user to schedule this report, so it can be run automatically by the TrulinX system, without having to manually start the report each time.
Also, Bosch Rexroth distributors that utilize EDI to transmit or receive PO's, invoices, and/or order acknowledgements can do that easily in TrulinX.
With TrulinX, Bosch Rexroth distributors can easily upload catalogs,  new Bosch Rexroth Inventory, and update vendor pricing, saving significant time and money over doing it manually. Pricing updates can be entered prior to the  price change and an effective date designated for the change.
Warehouse Automation with TrulinX Air
TrulinX has a powerful warehouse automation mobile app, TrulinX Air, which allows that allows users to increase productivity, accuracy and ensure better accountability in the warehouse with real-time validation and data posting. Users are able to pull and put away the correct inventory via barcode scanners, easily move items from one bin to another,  and produce a more accurate inventory count when cycle counting or doing physical inventory. 
Inventory Sharing via WarehouseTWO Integration
TrulinX is integrated with the powerful inventory sharing network, WarehouseTWO, which features several authorized Bosch Rexroth product line communities, such as Assembly Technology, Electric Drives & Controls, Mobile Hydraulics, and Rineer. WarehouseTWO provides a cost effective inventory-sharing tool that allows you to view your peer's inventory as an alternate source to fill your backorders and expedites. WarehouseTWO's integration with TrulinX allows you to look at and retrieve inventory information as you enter the order.
"Tribute maintains its laser focus on the needs of fluid power, motion control and automation distributors," states Tim Reynolds, President of Tribute, Inc.  "We work closely with our customers, their vendors and their customers to increase efficiency and take costs out of the supply chain. We create and maintain relationships at all levels of the chain to ensure we understand their needs and can provide innovative and effective solutions."
Most importantly, Tribute has continues to work with Bosch Rexroth to ensure a streamlined supply chain with their distributors and are committed to facilitating their success.
+++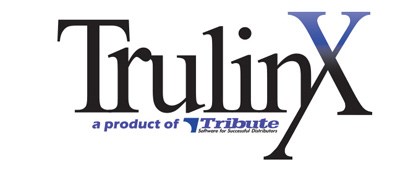 Tribute, Inc. is a provider of  ERP business management software for industrial distributors who provide engineering, design and fabrication services for their customers in the  fluid power, automation and motion control industries. 
For more information about TrulinX, our Windows-based product designed specifically for distribution and fabrication of engineered projects, contact us or visit Tribute.com