Tribute Customer Spotlight: The Hose Shop, Inc.
Since its inception in 1985, The Hose Shop Inc.has provided high quality industrial and hydraulic hoses, couplings, pumps, motors and accessories to customers across North America and around the world.
With roots stemming from the railroad and mass transit industry, The Hose Shop Inc. has grown into a well-respected industry leader, supplying products to a wide variety of companies servicing retail, industrial, OEM and specialty markets.
The One Stop Shop
Continuing its original mission to be the One Stop Shop, The Hose Shop provides a wide variety of products, extensive inventory and hydraulic services out of three locations in New Jersey – Piscataway, Matawan and Branchburg.
The Hose Shop provides fabrication and repair for hydraulic equipment as well as many other types of hoses and hose accessories. With a large inventory, The Hose Shop carries everything from hose and couplings to valves, pumps, cylinders, filters, and related accessories.  
They carry product from numerous manufacturers including: Adapt All, Anchor Fluid Power, Brennan Industries, Coil Hose Pneumatics, Cox Reels, Dixon Valve & Coupling, Dynamic Fluid Components, Flexaust, FluidDyne, HBD Thermoid, Kanaflex, Kuriyama, Manuli, New Age Industries, Nycoil, Parker Hannifin, Stauff, and US Hose Corporation, among others.
Get the Right Connection with Over 100 Years of Technical Expertise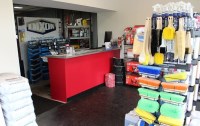 Their knowledgeable staff has over 100 years of technical experience, assuring you will get the "right connection". With a spacious walk-in, vibrant counter service combined with five hydraulic crimping stations and a mobile van, they are able to process requests in a matter of minutes.
They provide replacements for all types of hydraulic equipment, including excavators, dozers, backhoes, pay loaders, fork trucks, and skid loaders, regardless of the manufacturer.
A family owned business, The Hose Shop has over 30 years of experience in supplying hoses for railroads, mass transit and airports and carries industrial hoses for a wide variety of applications. Specialty hoses, whether they be hand-built, steam, chemical, acid, suction, material handling and silicone, to name a few, are also available.
Providing External Swaging & Internal Expanding of Hoses
They have a capability few distributors can provide - External Swaging - the ability to attach the fitting to the hose by expanding it from the inside rather than crimping from the outside, ideal  when full-flow non-restricted fittings are required.
The Matawan location has a cylinder repair shop that can handle repairs, re-sealing, custom-made rods. They also provide replacement hydraulic pumps and motors for variety of manufacturers, as well as building custom cylinders tailored to the customer's application.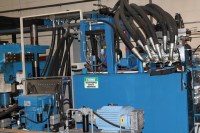 The Hose Shop went live on TrulinX software by Tribute, Inc. in 2012 and they have seen significant time and cost saving benefits due to the streamlined business processes, vendor partnerships, and ability to service their customers more efficiently at the counter. Since implementing TrulinX, they have opened a third branch and grown their company over 100%.
The Hose Shop blog has articles by hose experts on finding the right hose fittings and specifics on their product lines. A proud member of NAHAD, you can also find The Hose Shop on Facebook, Twitter, and Google+.
The Hose Shop, Inc. 
Piscataway, Branchburg & Matawan, NJ
732-562-1000
www.hoseshopinc.com