Made in America Holiday Gift Guide 2018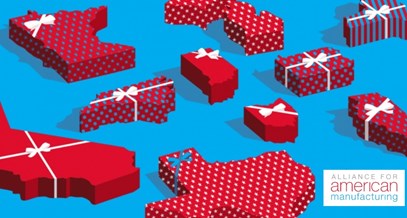 The Alliance for American Manufacturing released their 2018 Made in America Holiday Gift Guide, which features picks from all 50 states and the District of Columbia.
As in past years, the guide includes a variety of gift ideas at every price point and shines a spotlight on companies that support U.S. jobs and the local economy. The best part? Many of the ideas come from readers! 
There should be something for everyone on your list. But if you still can't find what you're looking for, head over to their Made in America Directory, where you can search for gift ideas by state or product type.
You'll find bedding, adventure outfitters, gifts for whiskey connoisseurs, wooden watches & sunglasses, wool blankets and scarves, surfboards, golf balls, customized wood baseball bats, moccasins, snow shoes, cookware, bottle stoppers, handmade blocks, toys and much more.
You can check out this year's suggested gift ideas and past gift guides at their blog - Manufacture This (click link to access).