It's time to Upgrade from Windows 7 and Windows Server 2008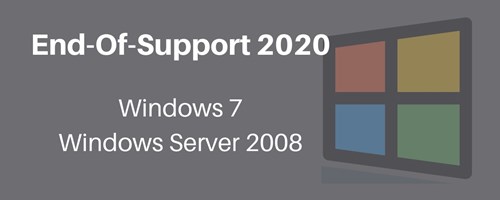 Microsoft has announced that it will officially begin the Windows 7 and Windows Server 2008 End of Support phase on Jan. 14, 2020.
As of that day, the company will stop supporting Windows 7 on laptops and desktops, and will no longer patch it with security updates.
Jan 14, 2020 is also the end of support for Windows Server 2008 and 2008 R2. If you have a server running on this operating system, it's time to upgrade to the current version of Windows Server.
What does Windows End of Life Mean to Me?
"End of life" or "End of Support" are terms that Microsoft uses to identify the period when the company will no longer support an operating system or application.
In this case, Microsoft will no longer patch security holes in the Windows 7 PC/laptop operating system. And if things go haywire and bugs develop, you won't be able to call on Microsoft to fix the problem.
When Microsoft's end-of-life date hits, any PC, 2-in-1 laptop, tablet or other device you have that's running on Windows 7 (or server running on Windows Server 2008) will be on its own when fending off hackers, as you will no longer be provided support or security updates from Microsoft.
If you don't want to move to Windows 10 yet or you simply don't have the time to migrate from Windows 7, Microsoft will allow users of Windows 7 Professional and Windows 7 Enterprise to extend their Windows 7 security updates through January 2023 for a fee.
For those with servers running on Windows Server 2008, it's time to upgrade your operating system to avoid getting hit by hackers. TrulinX customers can call our support department to initiate this.
Microsoft Office 2010 will have and end of support on October 13, 2020 and there will be no extensions for this product. Click link for Microsoft's FAQ sheet about the Windows 7 and Office 2010 End of Support.
+++
Tribute, Inc. is a provider of ERP business management software for industrial distributors that provide value-add services. 
Tribute's flagship TrulinX software allows customers to run efficiently, reducing time to do daily tasks, eliminating errors, and increasing customer loyalty. For more information on how TrulinX can help your distribution organization, contact us.