How to Calculate the Correct Length on a Hydraulic Hose Assembly & Avoid Scrap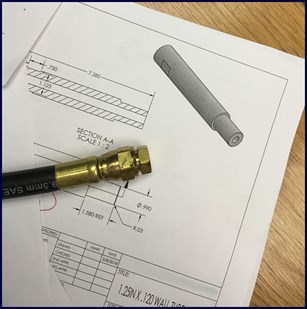 Some hose installers are not trained on how to correctly measure and specify hose length. As a result, a hose may end up being either a little shorter or a little longer than the specifications call for.
When a hose distributor fabricates hundreds of assemblies per day, inches or millimeters matter, and confusion about properly measuring hose length can result in order fulfillment delays, scrap and extra expense.
Dennis Sukhanitski, a hydraulic/mechanical engineer, hydraulic specialist, and author of the Fluid Power Pro, has a good article on how to correctly measure a hose assembly length. He states that there are three different ways to measure hose assembly length used in the industry:
 Overall length - Default for Parker, Gates, Kuriyama and many other suppliers
 Cut length - Default for Eaton suppliers
 Seat-to-seat length - Ryco's Standard
Fabricating a Hose Assembly to the Correct Length Specifications
Overall length is the most common way to identify hose length. Unfortunately, there are no any standards for the definition of "Overall Length" value and therefore different manufactures determine different ways of measuring the value of Overall Length. In most industrial applications (such as water or general purpose) the OAL is not critical, but in many hydraulic applications, the OAL can be critical due to space restrictions.
The hose cut length for a hose assembly is calculated by subtracting the cut-off factor (distance from the bottom of the ferrule or collar to the end of the fitting or an internal sealing surface).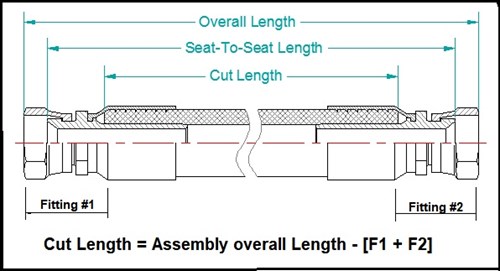 Hose fabricators need to ensure their staff is assembling the hose to the correct specification to meet the needs of their customer and to avoid creating scrap, creating extra expense for your organization.
Say you're making 100 hose assemblies with expensive 4-wire hydraulic hose that costs $10.54 per foot and your fabricator miscalculates the hose length and has to cut off an inch off each end to meet the overall length specifications - that's $174.00 in scrap. And that figure doesn't include the true replacement cost of the scrap, which can be up to 25 times the original cost (a significanlty higher expense at ~ $4,350). See our article on The True Cost of Lost Inventory.
TrulinX ERP Distribution Management Software Helps Hose Distributors Track Fabrication Costs and Minimize Errors
Keeping scrap to a minimum is why your ERP software should allow you to choose between Cut-off Length and Overall assembly length when entering hose fabrication bills of material (BOM). These two different "length-based" components will affect how the assembly is priced, depending on the pricing method used.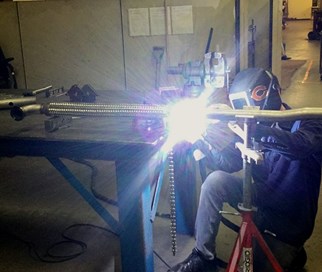 TrulinX ERP distribution management software allows hose fabricators the option of using cut length or overall length when entering a hose assembly BOM, reducing waste and ensuring order accuracy. TrulinX allows users to create templates for popular hose assemblies by series and use the manufacturer's cut-off length per end fitting to quickly and accurately calculate hose lengths.
Pricing for hose assemblies in TrulinX is sophisticated, allowing you the choice to price by component discount for cut length or overall length, by component list for cut length or overall length, and the option of an additional discount on the complete assembly. Users are able to save time and increase efficiency as the TrulinX system automatically calculates labor amounts based on the hose length and/or fitting diameter and true gross margins can be captured on all assemblies.
The ability to track and add all the labor and burden involved in the fabrication of a hose assembly is important in keeping a good profit margin, especially for those that do welding. Adding crimping instructions on orders is critical to ensure that the correct assembly procedures are followed, reducing errors and waste.
Features for Bar Coded Serial Numbered Labels and Retail Counter Sales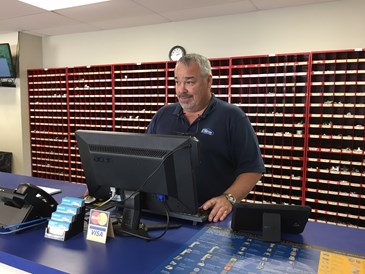 TrulinX allows users to generate serial numbered labels for hose assemblies so if a replacement is needed, the barcode can be scanned to find the original specifications easily. TrulinX is integrated with the Parker Tracking System, which is a big time saver for Parker distributors.
If you have counter sales, TrulinX is designed to allow users to check stock at any location, enter hose assembly and other orders in seconds, take payments, and accept deposits on any special orders or backordered items.
Tribute, Inc. has over 38 years in the hose distribution business and is a long time member of NAHAD - the Association for Hose and Accessories Distributors. We recommend investing in their NAHAD Safety Institute Training options and the Handbook for the Design and Specification of Hose Assemblies for industry-leading performance standards for hose assembly specification, design, fabrication, handling and management.
If you're a hose and fluid power distributor who needs to keep accurate track of fabrication expenses and increase profit margins, check out the benefits of TrulinX software by contacting us or visiting www.tribute.com
Watch some of our video testimonials by successful hose distributors.
Hose Assembly Diagram Credit: Fluid Power Pro