Don't Miss the Registration Deadline for the 2019 University of Innovative Distribution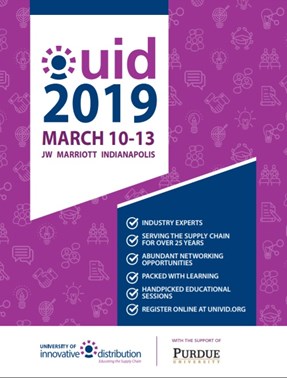 Don't miss the opportunity to attend the University of Innovative Distribution (UID) at a reduced rate! UID 2019 will be held March 10-13 at the JW Marriott in Indianapolis, Indiana.
The UID is a concentrated educational program held in cooperation with Purdue University focused on the unique needs of the distribution industry. Courses run the gamut of distribution concerns from Inside Sales 101 to Value-Added Selling to Managing the Account Portfolio to Distribution in a Post Amazon World.
Members of AHTD, FPDA, ISD, NIBA, NAHAD, and more can save $1000 and if you submit your registration by January 9, 2019 you'll save an additional $200!
Join the 200+ distribution professionals who have already registered for a great selection of courses taught by industry leaders.
Click links to register and to download the brochure to learn more about the University of Innovative Distribution.
+++
Tribute, Inc. has been a longtime member of ISD, FPDA, NIBA and NAHAD and provides business management software for fluid power, motion control, sealing, and hose distributors who offer design and fabrication services.  
Click for more information about TrulinX, our Windows-based product designed specifically for industrial distributors who perform complex fabrication projects.