Check out ACE Automation Control's VibroChecker mobile app
Ace Controls Inc. launched their handy "VibroChecker" mobile app in 2014 - a helpful assistant if you are looking for an App for vibration measurements, analysis via FFT (Fast Fourier Transformation) or if you are trying to choose suitable vibration isolation for machines, components or systems.
With this free App from ACE – specialists for industrial damping technology - you can quickly and simply measure vibrations on machines and components within a frequency range up to 50 Hz.
For measuring vibration - you simply place your mobile device on the machine and click start on your app. Measurement results can be analyzed using FFT and are saved as a CSV file or sent by e-mail.
The measured values are used as a starting point for the next step. Once they are taken onto a calculation screen, the most important characteristics are entered: machine weight, number of contact surfaces and the required degree of isolation are specified.
The program then suggests appropriate ACE products as a possible solution. The user can request information materials and a corresponding quote via the App, get in touch with ACE or view the product catalogue.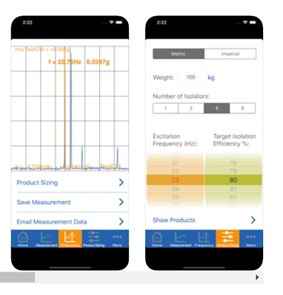 Today the VibroChecker app is available in English, French and German and can be installed as an iOS or Desktop PC app.
The VibroChecker PRO is the next logical development step. It's a professional version that allows you to quickly and easily measure vibrations of up to 8,000 Hz. This iOS app can be run on an iPhone or iPad. It still allows you to use the Apple OEM sensors such as accelerometer, gyroscope and microphone which limits measurement to 50 Hz or a professional-grade external sensor for improved results.
Click here for more information and to download.
+++
Tribute, Inc. is a provider of business management software for industrial distributors who provide engineering, design and fabrication services for their customers in the motion control, automation, and fluid power industries.
For more information about TrulinX, our Windows-based product designed specifically for complex fabrication projects, contact us or visit Tribute.com.
Updated 12/27/19